PIES
You will smell our farm-baked pies before you even walk into the Cider Mill. They are stuffed full of fresh fruit and we bake them on the premises every day. You may also purchase our pies frozen to bake at your convenience.
Pies available baked or frozen are:
1. Apple
2. Apple-crumb
3. Peach
4. Pumpkin
5. Pecan
6. Fruit-n-Berries (apple, blackberry, raspberry, strawberry, & rhubarb)
7. Blueberry
8. Strawberry-rhubarb
9. Sugar-free Apple
10. Chocolate Cream
11. Coconut Cream
All pies are available baked except for the sugar-free pie.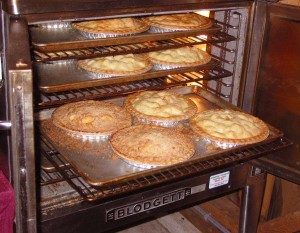 PUMPKIN CHEESECAKE
We also offer a scrumptious pumpkin cheesecake! It is made with all sorts of wonderful ingredients like cream, eggs, pumpkin, cream cheese and sour cream. The crust is a graham cracker crust that compliments the creamy smooth, light texture of the cake. It is available frozen to defrost at home.  There is a very limited supply after Thanksgiving because there are no more sugar pumpkins available that time of year.  So please take yours home before the holiday.
CIDER DONUTS
A New England tradition; you may not be able to eat just one!
COOKIES
Farm-baked, gluten-free chocolate chunk, oatmeal raisin and snicker doodle cookies are available fresh in our store!  They are gluten-free, but they taste amazing!
FARM BAKED FRUIT BREADS
Choose from blueberry, zucchini walnut, and peach raspberry bread during the summer, and apple-caramel, pumpkin, and orange-cranberry-nut bread in the fall.
SCONES
We have fresh baked apple-cinnamon scones as well as blueberry and raspberry white chocolate in season.
Payment Options:  We now accept Visa, Mastercard and Debit cards in our retail shop.  Pick-Your-Own remains cash or check only.