Our farm store will be open daily 10am to 530pm thru to Christmas Eve.
Pick-Your-Own has ended for the 2021 season.  Thanks for helping us pick our crops!
Pick-Your-Own – Call for our phone message updates or follow us on Facebook, Twitter, or Instagram to see the exact dates and varieties we are picking.
PYO is weather permitting from 10am-5pm WEEKENDS ONLY.
PLEASE call for variety updates or follow us on social media for the latest news and fruit availability.  Also, don't forget to visit the cider mill retail store which is open every day from August until December 24, 10am – 5:30 pm.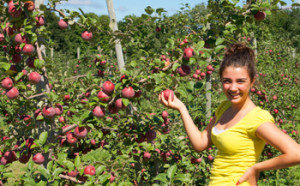 PYO IS CASH OR SHELTON CHECK ONLY
Upon entering we will explain what varieties are ripe and where to find them.  We charge $20 cash per 1 peck bag which holds just over 10lbs of fruit.  Please, NO BACKPACKS or LARGE BAGS OR PURSES in the orchard.
We are re-planting thousands of dwarf apple trees in our fields for our Pick-Your-Own orchard. The trees will only grow to a maximum of 10 to 12 feet for easy picking. We offer PYO apples on weekends and sometimes Columbus Day if ripe fruit is available.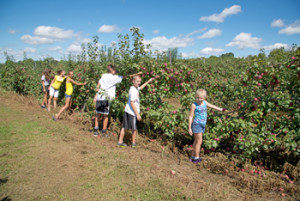 Approximate Picking Time and Varieties Available
Mid September:
Gala, Honeycrisp, Jonagold, Macoun, Cortland and Liberty
Early October:
Mutsu, Jonagold, Empire, Red Delicious, McIntosh
Mid October:
Winesap, Braeburn, Enterprise, Granny Smith and Rome
Pets
According to the State of CT, Good Agricultural Practices (GAP) program requirements, pets are not allowed in the orchard. Service dogs are always allowed.
Wheelchair Access
Since we are a working farm, we cannot accommodate wheelchairs in the Pick-Your-Own orchard.  However, our retail shop is handicap-accessible.