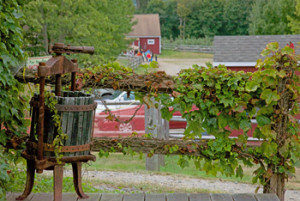 The Beardsley's have been farming this plot of land in White Hills, Shelton, CT since 1849! It was a dairy farm until a school bus lost its brakes and crashed into the barn in 1973, burning it to the ground.
Everything from hay to turkeys has been raised on the farm, including apples planted in the 1920's, some of which are still being harvested today.
In an effort to provide the growing community with a fresh, local commodity, and to preserve the farm land from being developed, we have rejuvenated the existing orchards. We have over 10,000 dwarf apple trees in our Pick-Your-Own Orchard and over 400 peach, nectarine and plum trees on our farm.